House Scholtz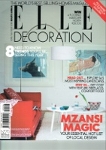 This project was a renovation of an existing house in Tamboerskloof. A second storey was added to a section of the house while the ground floor was rearranged and newly finished.

Clean lines, spacious rooms, natural lighting and a good flow between inside and outside upgrades the building to a contemporary upmarket building. The airy entrance hall creates a key feature in the house and gives a warm welcome to any visitor.

The unique timeless interior blends in well with the owners extensive book and art collection. Solar panels for hot water and a grey water recycling system fulfil ecological requirements and make it an environmental friendly building. The house was published in the Elle Decoration magazine.